No I am not talking about me. That's what BBC is calling Zealandia, a newest Continent introduced to the world a month ago.
When Dr Park mentioned the name Zealandia last Sunday, my eyes lit up and my affection towards New Zealand grew bigger again. After all, New Zealand has been my adopted country for more than twenty years. Ever since Dr Park opened my eyes to New Zealand as I had never seen before, in a EBS programme 세계테마기행 – 뉴질랜드, NZ became a loveable object not the usual 'boring-old-hubby-like' I used to call it. (No offence to those old-hubbies please.)
As much as I was interested in - what we are, what we are made of, where we come from, how the universe works etc. - my effort to understand it stopped at turning on some cool BBC science documentaries or related Youtube clips etc. And that's usually on a lazy evening or on a non-eventful weekend half lying down on a comfy lounge with something to munch about in my hand.
This ... has changed somewhat. I now have a pen and paper in my hand while watching video clips. I started to memorise things. I am trying to train my body and brain so that I could use it better. Science was an entertainment, and still is to me. The difference is, my entertainment has now a purpose and direction.
A thought while searching on the net about Zealandia,
'Could there be more undiscovered land masses or continents are out there hidden from us?'
I can't answer this of course. But I can say this with certainty. Scientists wouldn't know it until ... they come to know it. (Perhaps they already concluded that there is no more continent I don't know.)
A new kid in town, was not a new kid. He has been there all this time after all. We just didn't know he was there. I find this somewhat comforting.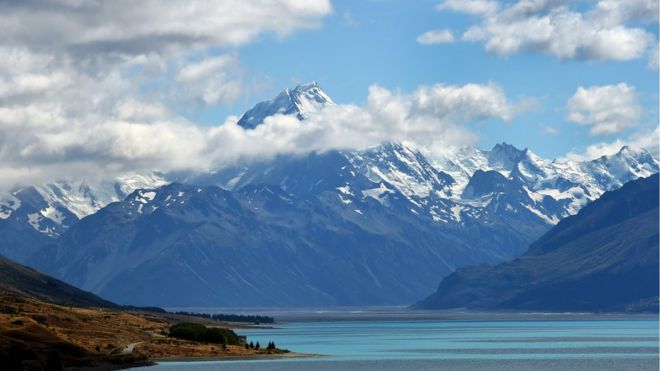 Mount Cook, the highest peak of New Zealand and Zealandia
BBC News